by Brenda Irby


In 1999, the Walton's Mountain Museum obtained a loan of the radio used on The Waltons from the National Museum of American History, Smithsonian Institution, Washington, DC. On August 14, 1999, many fans of The Waltons were at the museum in Schuyler to watch the UNVEILING CEREMONY.
| | |
| --- | --- |
| Earl Hamner and Dee Davis-Wells (Museum Director) unveil the radio. | The radio, a table model Zenith Tombstone, circa 1940 |
| Dee Davis-Wells and Earl Hamner in front of the radio | After the unveiling, Earl visited with the fans and signed many autographs, including my copies of Spencer's Mountain and The Homecoming. |
Meet some fans of The Waltons
| | |
| --- | --- |
| Dorothy Phillips and Carolyn Grinnell (President of The Waltons International Fan Club) | Raymond Castro |
| Rebecca Irby (my daughter) and Earl Hamner | Carolyn Grinnell and Brenda Irby (the author of this webpage) |
In October, 1999, I will be attending the annual reunion at the museum. Be sure to check back for more photos.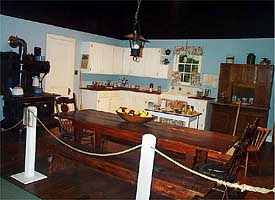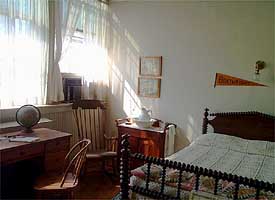 The Waltons kitchen, a room favored by Waltons John-Boy's bedroom, recreated in the museum,
museum curator Robert Hall, exudes the warmth will remind Waltons fans of the many times his
the Walton women shared with their offspring character sat describing, on paper and through
through the homemade meals they created and narration, his family's life on the mountain during
taught them to recreate. the Depression.

---